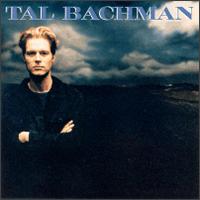 Tal's Music
Lyrics, reviews, sound clips, polls, video and more !
Songs :
Darker Side of Blue/ She's so High / If You Sleep / (You love) Like Nobody Loves Me / Strong Enough / You don't know what it's like / Beside You / Romanticide / Looks Like Rain / You're My Everything / I Am Free /
Comments from Reviewers about the album:
"...his intricate compositions unflinchingly recreate glitter rock's golden age. Whispered verses blossom into epic refrains filled with tingling harp, rich string swells, and lap steel guitar...Tal's aching falsetto (which occasionally recalls Jeff Buckley) makes the finished product intimate and heartfelt."
"Imagine if Bryan Adams had been producing Roxy Music with John Lennon pitching in a melody or two, and you'd have something akin to a Tal Bachman tune. Spinning with lush guitars, power-pop drums, and a glimmer of orchestral anguish, these are the type of songs you know by heart the first time you hear them."
"While adamantly refusing to break any new ground, Bachman's new "classic" rock sound is undeniably catchy, occasionally epic and jam-packed with potential hit singles"
"Tal Bachman, a rich, lush record that seems more similar to the classic rock and pop of the '70s than today's current sounds. "
"Catchy and melodic, the album pulls listeners in and keeps them listening."
"Differently timestruck, Tal Bachman offers up a self-titled debut that smears some now technology over unreconstructed '70s wank-as if history had stopped working altogether. "
" 'Tal Bachman', a honey pot of power pop swept up in yearning, McCartney-sweet vocals and equally gorgeous melody lines/arrangements. And all that's in service of heartstruck, romantically pining lyrics sure to appeal to teen-agers (of all ages)."
"His self-titled debut CD recalls an earlier age of lush '70s power-pop with sturdy melodies and earnest lyrics ... "
"The songs manage to sound like instant rock classics, with their killer hooks, soaring power pop guitars, and self-assured vocals. Bachman generously tosses in falsetto vocals, recalling the melodies of Jeff Lynne's ELO, but never sounding cheesy."
"The listener will find pop gems all over Tal Bachman, full of unforgettable melodies, elegant and often regal arrangements, beautiful vocals and lyrical wonders"
"Tal specializes in guitar-driven power pop with layered guitars and soaring melodies"
"Bachman's impeccably crafted tunes ranging from surging wide-screen epics to bittersweet adult lullabies make this one of the most satisfying pop discs in recent memory."
Tal's Comments about the Album:
"Maybe in a way my album sounds a little bit old-fashioned. But there was nobody else doing anything that seemed to approach songwriting in and of itself.
"I wanted to make the record sort of superficially likable. I guess I mean that I didn't want to make a record you'd have to listen to 50 times before you started to like it. "
''I just knew what I like and these are the kind of songs that I like,''

ToTALly Tal / Bio / Articles / Funstuff / Music / Quotes /Webring /